NEW MISSISSIPPI RECORDS 10.20.12
-MAMOUD AHMED's debut LP -Hasabe (Great Ethiopian dance party comp!) -PETER BUCK (Yep, from R.E.M… weird!) -DANIEL KROHA LP/DANNY & THE DARLEANS 7" (Detroit's own!) -BRUTE HEART "Wildfire" 7" -SPIDER JOHN KOERNER "March 1963" …plus Social Music LPs by garage-rock phenom TY SEGALL ("San Francisco Rock Compilation Or Food Or...
NEW ARRIVALS 9/26/2012
NEW ARRIVALS AT ENCORE!! Rodriguez - Coming From Reality LP RESTOCKED! Fela Ransome Kuti and His Koala Lobitos (his first LP) Sun Araw - The Inner Treaty LP Lee Hazlewood - The LHI Years: Singles, Nudes, & Backsides (1968-71) 2xLP Velvet Underground - Squeeze LP Howlin Wolf - The Howlin Wolf Album LP Charles Cha Cha Shaw - Into Morning LP Dock Boggs - Volume 2 LP Roscoe Holcomb -...
Exciting dub & other new arrivals at Encore!
NEW ARRIVALS SEPTEMBER 20 2012: Aggrovators - Reggae Stones Dub LP Augustus Pablo - Dubbing in a Africa LP King Tubby presents the Roots of Dub LP King Tubby's Rastafari Dub LP Upsetters - Blackboard Jungle Dub LP Augustus Pablo presents Ital Dub LP King Tubbys Meets Rockers Uptown LP Marva Whitney - It's My Thing LP Crass - Stations of the Crass 2xLP Crass - Christ the...
TWO UPCOMING SHOWS AT ENCORE!
We are excited to be hosting two exciting events at Encore in the next couple weeks! # 1  THURSDAY SEPTEMBER 13: WICCANS cassette release party WICCANS are a psych-folk trio who have playing in the area for a few years and are just now releasing their first cassette, entitled "Invocation of the Horned One." Come celebrate with us and take in their performance. Get haunted at the...
NEW MISSISSIPPI LABEL/DISTRO PLATTERS!
Ton of new stuff from Mississippi Records, plus restocks of some faves (all items 12" LPs unless otherwise noted): NEW STUFF: -Michael Hurley- Back Home With Drifting Woods (Newly uncovered archival '60s recordings of this singular freak-folk troubador) -The Great Unwashed- Clean Out Of Our Minds (1983 4-track psych-pop from The Clean's Kilgour brothers, on Exiled...
NEW ARRIVALS 8/15/12
MANY EXCITING NEW ARRIVALS & RESTOCKS HERE AT ENCORE! Including these: LOCAL INTEREST: Jay Dee - Welcome 2 Detroit Instrumentals 2xLP J Dilla - The Shining 2xLP Rodriguez - Cold Fact LP Rodriguez - Coming From Reality LP Friday At The Hideout - Boss Detroit Garage 1964-67 LP The Iguanas s/t LP ROCK/FOLK ETC: The Clean - Oddities 2xLP Deep Time - s/t LP Nu Sensae - Sundowning LP Karen Dalton...
Watch
We're having an instore show next Sunday August 12! WCBN presents DEEP TIME (formerly YellowFever, from Austin TX. new LP on Hardly Art!) FREE, all ages, super early show at 5 pm! See you then! Facebook event info: http://www.facebook.com/events/300459596718942/
NEW ARRIVALS AT ENCORE!
NEW ARRIVALS AT ENCORE: Francis Bebey: African Electronic Music 1975-1982 2xLP Father Yod & the Source Family - The Thought Adjusters 2xLP Pierre Schaeffer - "Le Triedre fertile" LP Long Live Boogaloo: 22 Rare Latin Boogaloos Circa 1963-1972 compilation (2xLP gatefold) Eat the Dream: Gnawa Music from Essaouira LP MF Doom Operation Doomsday: Silver Age Set remastered 2xLP Sun...
Electrosonic at Encore, Saturday June 9th!
Please join us for this exciting instore performance at Encore! Electrosonic: a new ensemble influenced by the musics of Jon Hassell and Brian Eno: spontaneous compositions through jazz leanings with Northern Indian tabla and modern electronic massaging of percussion. Electric trumpet and flute meet modified early folk instruments. Featuring: Kelly McDermott: flute/electronics Mark...
Let's Make Like Jermaine Jackson And Get Serious
Okay, so we're going to start making a more concerted effort to update this blog, as it's been sitting dormant even as we get in TONS of awesome records. How silly of us! Just peeking around cursorily, I'm seeing Mike Huckaby's brand new EP of killer reel edits of classic Sun Ra tracks, Bruce Haack's Way-Out Record For Children, Sly & The Family Stone's...
Tony Malaby live in-store 10.18.11!!!! →
We're really excited to be presenting our first ever in store performance by none other than world renowned saxophone player Tony Malaby! This is a kickoff show for the 15th annual Edgefest at Kerrytown Concert House, which is Wednesday October 19 - Saturday October 22. Tony Malaby will also be performing on Wednesday night at Kerrytown, in the Tamarindo Trio with William Parker...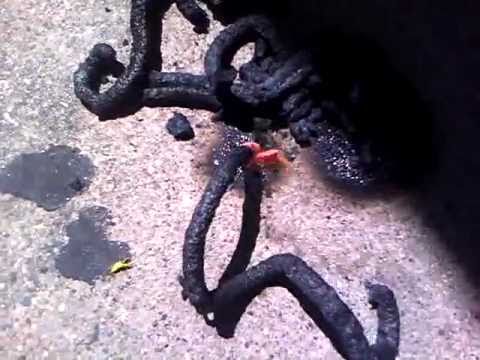 Peter's retirement on Annarbor.com →
Some local press regarding Peter's retirement/Bill and Jim's purchasing of the store. Thanks, guys!
Watch
Also available at Encore now, via Archaic Formats distro! If this video isn't enough to convince you, Shelley, Patrick, or I will be glad to pile on the superlatives until you're sold! ;-) ///DK archaicformats: Oh, yeah: forgot to mention that the excellent PEAKING LIGHTS LP "936" is fully restocked, so you should fully buy it in all available formats. You will fully enjoy it.